Trip to Ottawa, day 3
by hub, Sunday 7 August 2005 at 14:25 :: Travel - Photo :: #267 :: rss
Wednesday July 20th 2005, Day 3 of my trip to Ottawa.
Dekstop Developer Conference is finished, and I have a few more hours to kill before going home. Time to go downtown shutterbugging. Wait, I'm already downtown as the conference center in inside Centre Rideau, a big downtown shopping mall, a few blocks for the Parliament of Canada.
I went down to the lock on Canal Rideau. These are the last before entering the Outaouais (Ottawa) river the separate Ottawa, Ontario, from Gatineau, Québec. While the Tuesday they were being emptied, this time there were actually a couple of boats going slowly thru to locks:
I went to chit-chat with a couple of boaters, asking them in french where they were coming from or going to. It appears that one of them went thru their 49th lock on their way back to Montréal, while the others came back from 1,000 Islands, Ontario to Laval, Québec, a 10 days trip. I should do that one day, slowly boating to go on vacation.
While walking uphill to the parliament, there was that person who lost is cell phone on the grass somewhere. I offered him to call his number to see if it rings too help locate it, but without chance.
The parliament is a real tourist attraction, probably the main in Ottawa. One of the reason is that the building is gorgeous, the other one is that it is the heart of the federal government. But there was some attractions too. First, the RCMP officer securing the area. Apparently the chinese tourists like to be photographed with a "mountie", even if he does not wear the red uniform (cliché), and actually happy to no because of the heat. I don't rememeber to have seen police officers that friendly in France.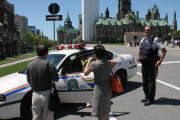 Second, there was a "silent" demonstration against persecutions and tortures in China, exhibiting pictures and giving away flyers. It was not silent because someone with reading in a microphone, but they were still and pacific.
The rest of the walk didn't bring any interesting stories but still some pictures:
The grand finale being the World War memorial: